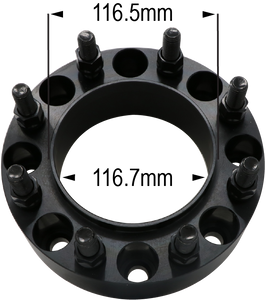 QUANTITY OF 1 = 2 WHEEL SPACERS.
Please select Quantity 2 of you want 4 wheel spacers
Vehicle: 8 x 6.5" (165.1mm)
Wheel:
 8 x 6.5" (165.1mm)
1.50" Thick
14mm 1.50 studs
116.7mm Center Bore1116.5mm Wheel BoreIncludes: 14mm 1.50 open end lug nuts (8 pcs)
It's recommended to purchase 2 Hubcentric spacers for the front and 2 Lugcentric spacers for the rear.
Note: Wheel Centric Applications May Not Fit on the Rear End of Certain Vehicles. Please use non-hub centric spacers for the rear.

THIS KEEPS THE BOLT PATTER THE SAME! Check out our ADAPTERS if you need to switch bolt patterns