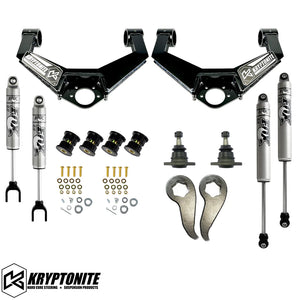 KRYPTONITE STAGE 3 LEVELING KIT WITH FOX SHOCKS 2011-2019
Fits; 2011-2019 GM HD Trucks 2500/3500
Part# KR11STAGE3FOX
DOWNLOAD CONTROL ARM INSTALLATION INSTRUCTIONS HERE
(This Package is designed to level the front of LML trucks a maximum of 2 inches! Any adjustment beyond 2 inches over stock height will most likely result in complete front shock failure!)
Kryptonite leveling kits are the fastest, safest, least expensive way to bring the front of your GM HD Truck 2 inches closer to the rear. Our torsion keys are designed to grab the "FLAT" of the torsion bar for a tighter, sturdier fit. Kryptonite torsion keys are forged, making them 25% stronger than OEM and primed to last the life of your vehicle.

The adjustable torsion key provides 1" to 2" of lift and gives clearance to add up to 33" wheels and tires to your GM HD Truck.  Designed to keep the OEM ride and will not add more pressure on the stock suspension components. Through our innovative engineering, these kits cost thousands less than a traditional lift kit.
Kit Includes everything needed for installation;
1 x Kryptonite Upper Control Arm Pair

4 x Control arm sleeves
8 x Control arm Bushings
2 x Kryptonite Bolt on Upper Ball Joints
1 x Hardware package
2 x Leveling Keys
2 x Fox 2.0 Performance Series Front Shocks, Part# KRS189
2 x Fox 2.0 Performance Series Rear Shocks, Part# KRS664
Note; Access to grease fittings on your upper control arms can often be a pain. We have eliminated this problem by changing the locations on our newest version of the upper control arms from Kryptonite. The hardware kits with your arms include multiple grease fittings as well as grease port plugs. This allows you to have great service ability no matter how your upper control arms sit.
Optional:
KRYPTONITE CAM BOLT KIT Part# KR86376

Recommended when replacing the Upper Control Arms.

​

1x Kryptonite Alignment Pins Part# KR86326

​These pins replace the alignment pins in the GM vehicles listed. The pins make it easier to align the vehicle and often become bent or crushed and need to be replaced. This kit includes 8 pins.
(Kryptonite No Fine Print Lifetime warranty)-Kryptonite steering and suspension components are warrantied for life to their original purchaser. This warranty is against any manufacturer defects, premature wear or breakage. Race it, jump it, off road it, wreck it, lift it, I think you get it? We don't care. If you can break it we will replace it. 
Your Kryptonite products must be purchased from an authorized dealer, and must complete warranty registration within 90 days of purchase. Complete Warranty details can be found here.